AHGP Canada
Canadian
Genealogy
What's New
February 2015 - Complete rebuild of Canada AHGP which is ongoing as material is added frequently. British Columbia,and Quebec have hosts. The remainder of the provinces are available for adoption and a multitude of cities, towns, and municipalities that need hosts within those provinces.
March 2015 - Prince Edward Island, a maritime province online including the historical document Murder at Rose Hill Farm which includes many Acadian surnames and family lineage.
April 2015 - List of executions from 1860 to abolition added to resources.
List of Quebec Parishes
New Brunswick, one of the maritime provinces online.
Newfoundland / Labrador, one of the Atlantic provinces online.
Northwest Territories online.
Nunavut Territory online.
Saskatchewan, one of the prairie provinces online.
Yukon Territory one of the great wilderness regions of North America online
May 2015 - You may now find us on Facebook
All provinces now online with the inclusion of Ontario, Canada's most populous province.
June 2015 - The New Acadia Project added to the province of Nova Scotia
August 2015 - 1882 Gazetteer for British Columbia
October 2015 - Home Children 1869 - 1932 under Resources
December 2015 - Canadian genealogy/historical groups and pages on Facebook
2016
February 2016 - Amherst Internment Camp added to the province of Nova Scotia
March 2016 - Southern Alberta Newspaper Collection added to the province of Alberta

Daniel F Johnson's New Brunswick Newspaper Vital Statistics added to the province
of New Brunswick
April 2016 - Kings County Record Newspaper: Death Index, 1897-1936 added to the province of New Brunswick
Southern Peace Regional Archives added to the province of Alberta
World Wars Aboriginal Veterans Portal added to Resources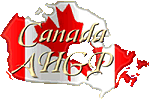 © 2005 - Present
All Rights Reserved