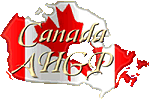 Saskatchewan and it's counties are available to be hosted. Please contact me if you are interested in hosting this site.
Saskatchewan, one of the three Prairie provinces of Canada, bounded on the North by the Northwest Territories, on the East by Manitoba, on the S. by the states of North Dakota and Montana, and on the West by Alberta.

Saskatchewan entered the Canadian Confederacy on September 1, 1905, along with Alberta, as the eighth and ninth provinces. Saskatchewan is called Canada's Breadbasket because it is one of the largest wheat producing areas in the world. Mining is also an important industry, because of the province's large reserves of petroleum, coal, uranium, and potash. Saskatchewan was named by the Cree Indian word which means, "flowing fast."
Saskatchewan Counties

Swift Current
Moose Jaw
Weyburn
Kindersley
Regina
Yorkton
Battleford
St. Joseph's Colony
Saskatoon
Kamsack
Lloydminster
Barr Colony
Prince Albert
Saskatchewan Facts:

Capital: Regina
Floral Emblem: Prairie Lilly
Area: 251,700 sq. mi; includes 31, 518 sq. mi of inland water; 6th largest among the provinces and territories.
Highest Point: 4567 ft in the Cypress Hills
Lowest Point: 700 ft on the shore of Lake Athabasca
Principal Rivers: Saskatchewan, North Saskatchewan, South Saskatchewan, Assiniboine, Qu'Appelle
Principal Lakes: Athabasca, Reindeer, Wollaston, LaRonge
Saskatchewan Links - Offsite:
Alberta Family Histories Society (AFHS) Genealogical Projects Registry
CCA Directory of Archives for Saskatchewan
Canadian Archival Resources on the Internet
City of Saskatoon Archives
Mennonite Historical Society of Saskatchewan Inc. - Cemetery Finding Aid
Migrations
National Archives of Canada
National Archives of Canada - Dominion Land Grants
The Hudson's Bay Company Archives
Saskatchewan Cemetery Index
Southeast Saskatchewan Cemetery Records
Indian Tribes and Bands of Canada