Prince Edward Island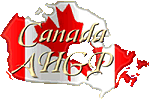 Prince Edward Island and it's counties are available to be hosted. Please contact me if you are interested in hosting this site.
Prince Edward Island
Prince Edward Island, a Maritime province of East Canada, bounded on the North, East and West by the Gulf of Saint Lawrence and on the South by Northumberland Strait.

Prince Edward Island became part of the Canadian Confederation on July 1, 1873, as the seventh province. When the French explorer Jacques Cartier landed on the island in 1534, Micmac Indians lived there. England seized the island from France in 1758, and called it Saint John's Island. In 1799 the island was renamed for Edward Augustus, who was the son of King George III, of England. Farming is the main industry on Prince Edward Island. It is known as PEI or The Island.
Prince Edward Island
Kings County
Prince County
Queens County
Facts:

Capital: Charlottetown
Motto: The small under the protection of the great
Floral Emblem: Lady's slipper
Area: 2184 sq. mi; 12th largest among the provinces and territories
Coastline: 783 mi
Highest Point: 465 ft
Lowest Point: Sea level
Principal Rivers: Wilmot, Montague
Prince Edward Island Links - Offsite
1768 St. John's Island Heads of Household Census
Alberta Family Histories Society (AFHS) Genealogical Projects Registry
CCA Directory of Archives for Prince Edward Island
Canadian Archival Resources on the Internet
Canadian Library Index
Cyndi's Canada Military
Cyndi's PEI Links
Prince Edward Island Provincial Library
Prince Edward Island War Memorials
The Prince Island Register
Tribes and Bands of Canada
---
---
Copyright 2005-2006 by Canadian Genealogy
The WebPages may be linked to but shall not be reproduced on another site without
written permission.