Nunavut Territory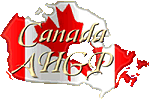 This territory and it's counties are available to be hosted. Please contact me if you are interested in hosting this site.
Nunavut was formed on April 1, 1999 splitting off from the Northwest Territories and forming their own government. The Inuit, a Native American People, have lived off the arctic land for centuries and wanted their own Region to manage. A land settlement was agreed upon in April of 1999.

Due to the VAST size of the Arctic area, they were far removed from even the other Northern Areas of Canada. Nunavut is now a Territory of Canada,
Nunavut Cities

Arviat
Baffin
Cape Dorset
Iqaluit
Pangnirtung
Pond Inlet
Rankin Inlet
Nunavut Facts:

Capitol: Iqaluit
Area: 1,900,000 sq km
Flower: none yet
Motto: our land
Nunavet Links - Offsite
AJR NewsLink - Northwest Territories Newspapers
Alberta Family Histories Society (AFHS) Gen. Projects Registry
Canadian Archives
Canadian North (National Geographic)
Canadian Archival Resources on the Internet - NW Territories
Canadian Library Index - Northwest Territories
Cyndi's NW Territories Nunavut, and Yukon Territories
Cyndi's Canada Military
Gateway to Nunavut
Hudson's Bay Company Archives
History - Kenn Harper
Inuit Culture - Ann Meekitjuk Hanson
Inuktitut
Migrations
Northwest Territories Public Library Services
Nunavut Arctic College
Nunavut--Canada's Newest Territory
Nunavut Government website
Nunavut Tourism
Nunatsiaq News
The Nunavut Handbook
Physical Geography
Teaching and Learning about Nunavut
Tribes and Bands of Canada
---
---
Copyright 2005-2006 by Canadian Genealogy
The WebPages may be linked to but shall not be reproduced on another site without
written permission.